Welcome to the page of "A rose on a table". This page is about the life of an ordinary Japanese housewife, Japanese home

cooking, and household chores.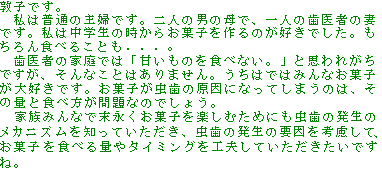 My wife is interested in rose gardening. She always says. "I want to live on a feeling that a rose is always exhibited on a table." She also enjoys cooking and baking, She does other household chores well everyday. But, she isn't interested in my computer and the internet. So, I will introduce her work in our house for her.( Tatsuya ) since Mon 05 Oct 1998.
---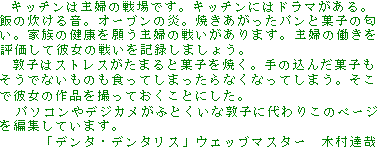 The kitchen is a combat field of a housewife. There are many stories of hers kitchen.
 A smell that rice is cooked just now. Rythmical cuting sound. A flame of her oven. A smell of a bread to have finished baking now. She wishes for the health of her family. The work of a housewife is well evaluated.  I recorded her works. Of course, today, I record them. Probably then tomorrow, too. Webmaster Tasuya Kimura.
These photographs took in 2004.